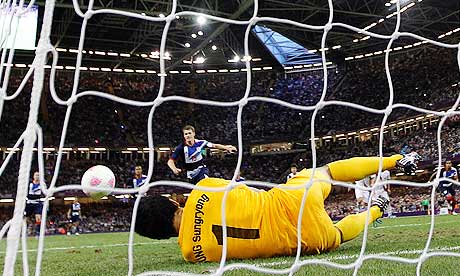 South Korea's Jung Sung-ryong saves a penalty from Team GB's Aaron Ramsey during their Olympic quarter-final. [ Millennium Stadium ]
It was a night when football was politely ushered towards the "and in other news" slot and, from here, there will be no further opportunity for Stuart Pearce's team to join the expanding list of success stories. Great Britain are out, beaten on penalties, and it is South Korea who go through to Tuesday's semi-final against Brazil courtesy of their expertise from 12 yards.
All five of their penalties were despatched past Jack Butland in the GB goal and though Aaron Ramsey, Tom Cleverley, Craig Dawson and Ryan Giggs were all successful with their efforts Daniel Sturridge's was saved by the substitute Korea goalkeeper Bumyoung Lee.
Sturridge was disconsolate at the end, pushing away all attempts to comfort him, but the truth was that Pearce's team had lacked the imagination to break down their opponents throughout a frustrating night.
South Korea had taken a deserved lead just before the half hour through Sunderland's Dongwon Ji before Aaron Ramsey equalised with a penalty seven minutes later.
It was a strange match in many ways, with Pearce's men often looking flat and lacking rhythm, fortunate to be level at half-time yet also ruminating on the fact they should probably have been in front. Four minutes after Ramsey's penalty, the Colombian referee, Wilmar Roldan, pointed to the spot again and the Arsenal midfielder had the chance to give the hosts a lead their play barely warranted.
His first penalty had not been struck particularly well, going beneath the body of Jung Sungryong, and this time he went for the other side of goal, did not aim close enough to the corner and the goalkeeper turned away the shot.
Korea played with structure and cohesion and, having taken control of the match in the first half, their players were incensed by Roldan's refereeing. Yet Hwang Seokho had been culpable of a clumsy challenge on Daniel Sturridge for the second penalty and the replays confirmed a handball from Oh Jaesuk for the first. Oh, in mitigation, had a legitimate argument that he was sliding in to try to block Ryan Bertrand's shot and could not get his arm out of the way. It was certainly far from clear-cut and, for that alone, GB had a measure of good fortune.
What could not be disputed was that it was tough on Korea considering the way they had started the match, subduing the crowd and turning down the volume beneath the closed roof. Until Ramsey's penalty, Pearce's men had not created a single noteworthy chance, with their more penetrative attacking players scarcely involved. Their passing was unimaginative and there was no real tempo. Korea, in contrast, looked confident and vibrant, producing some slick, measured football.
Jack Butland's one-handed save, at full length, had kept out a left-foot effort from Ji after a quarter of an hour and shortly afterwards the Arsenal forward, Park Chuyong, flashed a header over the crossbar from Park Jiongwoo's free-kick. The pressure was not relentless but there was a clear level of superiority and when Ji tried again with his elegant left foot, collecting Ki Sungyeung's sideways pass and then sizing up his range, he produced a stunning, diagonal drive. The ball was struck with power and accuracy but Butland lost the flight of the shot and reminded us that, for all his immense potential, the 19-year-old is still at an age when mistakes will happen.
At that stage, GB were looking short of ideas but they got a stroke of luck with their penalty and, by half-time, there was a clear sense of disappointment that Ramsey had not been able to turn the game more in their favour.
The mood had changed and there was a notable improvement after the interval. The team were far more purposeful, with Craig Bellamy and Scott Sinclair more prominently involved, pushing in from the flanks, and Tom Cleverley showing a greater desire to push forward from midfield.
Bellamy's right-wing deliveries have been one of the team's more potent weapons during this tournament and Cleverley was only inches away from turning one in four minutes into the second half. Their first sustained spell of pressure, however, was interrupted by a lengthy spell of treatment for Micah Richards and Jung after they collided going for the same aerial ball. Both players were able to return to the action but had to go off a few minutes later.
After that, with the pitch cutting up badly, there was little from either team before extra time.